We are proud to have represented the very first graduate of the Deschutes County Veterans Intervention Strategy (VIS) program. Our client, Mr. Duran, served in the Air Force for six years and was a contractor for NASA and the Department of Defense.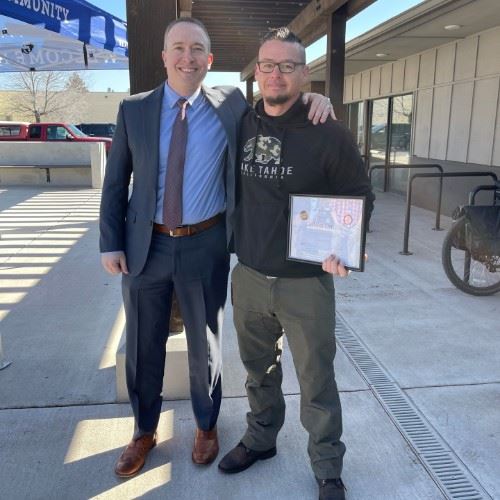 After completing his service, Mr. Duran found it difficult to return to civilian life. He had Post-Traumatic Stress Disorder (PTSD) and lacked the structure and camaraderie of the military.
Struggling to successfully reenter society as a civilian, Mr. Duran got tangled up in the criminal justice system, being charged with and convicted of assault on three different occasions. After his fourth arrest for an altercation in a bar, Mr. Duran faced up to 364 days in prison.
Attorney Casey Baxter recommended that Mr. Duran participate in the VIS as an alternative to imprisonment. The program was developed to help veterans get treatment and services to address underlying issues, such as mental health or substance or alcohol abuse problems.
The VIS involves cooperation between the Deschutes County District Attorney's office, defense lawyers, the Central Oregon Vet Center, and the Deschutes County Sherriff's Office. Participants receive individualized plans they must follow for at least 12 months. Upon graduation, they are presented with a challenge coin, a symbol of notable achievement in the military.
Mr. Duran said that the VIS was an "interesting adventure" that helped treat some of the issues that made it hard for him to adapt to civilian life.
Mr. Duran's is a case that is very dear to us. Attorney Casey Baxter is a former U.S. Marine who understands the challenges veterans face. When he was working in the Deschutes County District Attorney's Office as a Deputy District Attorney, Casey was involved in the beginning stages of implementing the VIS. Although it was not launched until recently, Casey is honored to have been the attorney to have represented the first graduate of this amazing program.
For legal representation in Bend, OR, schedule a consultation with Baxter Harder, LLC by calling (541) 238-9210 or submitting an online contact form today.