DUII Attorney in Bend, Oregon
Driving Under the Influence of Intoxicant Charges in Oregon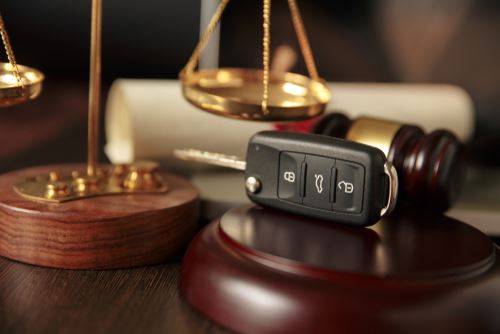 In the state of Oregon, impaired driving will be charged as DUII (driving under the influence of intoxicants). Oregon DUIIs prohibit driving with a BAC of 0.08% or more or driving under the influence of any alcohol, cannabis, a controlled substance, or an inhalant.
A .08% BAC is not required for a DUII conviction. The officer(s) who pulls you over has the right to charge you with a DUI or DUII if they believe you are unfit to be driving—regardless of your BAC.
For example, if you had a drink with dinner, your BAC is .04%, and the officer who pulls you over believes you were swerving due to intoxication, that officer has the right to arrest you and charge you with a DUI or DUII.
This is one of the most common charges that you can face, but when you do find yourself accused of driving under the influence in Oregon, it's important that you act fast to secure focused and supportive legal representation from the Bend, OR DUI defense lawyers at Baxter Harder, LLC.
What's the Difference Between DWI, DUI, & DUII In Oregon?
Nothing at all. Other states or jurisdictions use different terms which mean the same thing. In Oregon, for instance, an arrest of this nature is technically called "Driving Under the Influence of Intoxicants."
You will also notice that DUI and DUII are used interchangeably. In other states, such as Texas, they use the term Driving While Intoxicated or DWI, which ultimately means the same thing as a DUI or DUII in Bend, OR.
What Does Driving Under the Influence of Intoxicants Mean In Oregon?
Driving with a blood alcohol content (BAC) of .08% or more (within two hours of driving), or while under the influence of alcohol, cannabis, a controlled substance, psilocybin, and/or an inhalant.
What Are the Penalties for a DUII in Oregon?
The state of Oregon imposes a mandatory minimum sentence for convictions. However, as the number of offenses increases, the penalties also increase.
First Conviction in OR
$1,000 fine with an additional $255 conviction fee
Community service for at least 80, but not exceeding 250 hours
Jail time of two days to one year
90-day administrative license suspension
1-year license suspension
IID Device
Your first conviction offense requires an ignition interlock device (IID) to be installed in your vehicle. This device must remain installed in your vehicle for a full year following your license suspension. Similarly, you are responsible for all costs related to the installation and maintenance of the IID.
Potential Fine Increases
If your BAC was .15% or above, the fine increases to a minimum of $2,000. The maximum fine is $6,250. If you had a passenger in the vehicle younger than 18 years old and you were at least three years older than them at the time, your maximum fine increases to $10,000.
Substance Abuse Treatment
In order to determine an adequate substance abuse treatment program, everyone convicted of a DUII in Bend, Oregon must submit to a screening interview. The screener will recommend a program for you to complete and you must pay for it yourself.
Treatment program costs can vary and the screening fee is $150. You may also be ordered by the court to attend a "victim impact" treatment session that costs anywhere from $5 to $50.
Second Conviction in OR
Up to 1 year in jail
IID installation
Between $2,000-$10,000 in fines
License suspension of 3 years
Third Conviction in OR
As much as 5 years in prison
Between $2,000-$10,000 in fines
Potentially permanent loss of your license
Chemical Test Refusal in OR
Refusing to take a chemical test may result in the following penalties:
$1,000 fines
A license suspension of 3 years for a third offense
Refusal of the chemical test is an offense against Oregon's implied consent laws and will trigger a license suspension for one year.
Find out more about the DUII penalties you may face from our Bend criminal defense lawyers.
Additional Oregon DUII Penalties
These are serious charges that you can face and the punishment doesn't always fit the crime. Under Ballot Measure 73, there are also mandatory minimum sentences in some cases of repeat DUI or DUII.
There are available options to protect you. One of these is the Diversion Program and through this option, it may be possible to have your crime dismissed at the end of the year.
While a DUII is a charge that many people find themselves dealing with, the penalties you may suffer can still be severe. If someone was killed while you were allegedly under the influence, you can also face increasingly high penalties for manslaughter charges.
What Are My Rights After Being Pulled Over?
Immediately upon pulling over, you are obligated to furnish the police officer with your license, registration, and proof of insurance.
Once you've complied with the officer's request for documentation, you have the right to:
Decline a field sobriety test
Decline a breath test
Decline your car to be searched
Decline to answer questions
Have your lawyer with you
Stay quiet
It is important to keep in mind that while within your rights, your license will automatically be suspended for one year if you refuse to take a breath test.
If you decide to exert any of your rights, be sure to:
Remain courteous
Solid with your stance
And keep to yourself as much as possible
It is not uncommon for police officers to do what they can to intimidate you into providing evidence that could hurt your case. It is wise to keep yourself composed with the officer and make it well-known that you wish to speak to your lawyer before answering any of the officer's questions. Stay strong, but also stay respectful.
If you are held under arrest and taken to the police station to be booked, you have the right to a private phone call with your Bend DUI attorney. Depending on the circumstance, you may even be able to make the phone call on your personal cell phone.
Other Tips for DUI or DUII Charges
Ticket amount: If your ticket amount says $6,250, don't be alarmed. This is a common figure for offenses that require court appearances and will most likely be reduced in court.
Blood alcohol concentration (BAC) regarding diversion: There is no BAC too high to enter into Oregon's DUII diversion program.
Canadian entry: If you are convicted, you will be unable to travel to Canada. However, you do have the option to pre-apply for entry by completing the required forms and enduring a background check, which can take up to 6 weeks.
How Can A DUI Attorney In Bend, OR Help Me?
Without a DUI attorney to help you, you may be risking your future and your reputation. A DUI attorney has the skills and experience required to effectively fight for a favorable settlement on your behalf.
A DUI attorney can help you by:
Ensuring that you have the legal advice that you need to thoroughly protect your rights and your future
Representing you in court and fiercely fighting for a favorable settlement on your behalf
Thoroughly examining the evidence used against you and ensuring that is legitimate
Gathering evidence to use to support your case
Supporting you through every step of the process and ensuring that you have clarity on your case
Answering all of your questions and ensuring that you are fully aware of all of your legal options
Did you or someone that you care about recently get charged with a DUI or DUII? Our DUI attorneys in Bend, Oregon are here to fight for you. Contact our lawyers in Bend to schedule a free consultation.
Put 60+ Years of Combined DUI Experience on Your Side
As legal professionals, our goal is to protect your rights and avoid letting charges turn into a conviction. We seek the best possible outcome in every case we handle and we have the legal knowledge to assist you in minor charges up to felony charges.
Why Choose the Bend DUI Lawyers at Baxter Harder, LLC?
Experienced counsel from a Former Prosecutor who can use this unique insight to create an aggressive defense strategy.
Attorney Casey Baxter has been recognized as a top attorney in his field, including the Top 40 Under 40 award by National Trial Lawyers.
Every strategy is created with your rights, interests, and future in mind. We fight to protect you, it's that simple.
You can get started today with a completely free and confidential case consultation.
Suggested Reading:
Know More About Your DUII
Benefits of Baxter Harder
Reasons to Choose Us
Over 60+ Years of Combined Experience

Work With an Experienced Former Deputy District Attorney at the Firm

Extensive Trial Experience

We Can Handle Complex Cases in Criminal, Civil, & Family Law

Highly Personalized Representation

Free or Low-Cost Consultations

Google's Highest Rated Law Firm East of The Cascades
Protecting Your Best Interest
When you choose our team of experienced lawyers, we will take the time to listen to your needs and remain focused on that as we proceed with your case. We have the knowledge, skills, and resources to provide the quality defense you need.